Spotify has announced the launch of its Audio Ads Marketplace: The Spotify Audience Network. Described as a "first of its kind", the marketplace will allow advertisers of all sizes to connect with consumers across Spotify's Originals & Exclusives, ad supported music, and podcasts via Megaphone and Anchor, all in one place. The reveal came as part of Spotify's most recent market update, where growth was also announced for its ad monetisation product Streaming Ad Insertion (SAI), alongside podcasts arriving to its self-service ad platform, Spotify Ad Studio.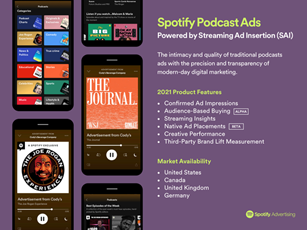 The move comes after two years of rapid growth. In 2019 Spotify spent $400 million acquiring three podcast specialists: Gimlet Media, Parcast and Anchor. This was quickly followed by the acquisition of podcast technology leader Megaphone in November 2020, at a cost of $235 million.
The aggressive growth strategy appears to be working. 2021 is set to see Spotify's US listeners surpass Apple Podcast's for the first time. After such heavy investment and promising signs of growth it is unsurprising Spotify is looking to monetise and grow its ad offering, and it seems the acquisition of Megaphone was the last piece of the puzzle the company needed to make its move as the industry leader.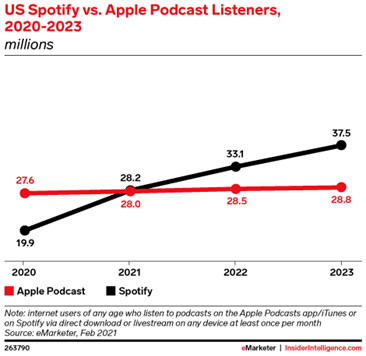 But Spotify's rapid growth has not gone unnoticed by competitors, who are quickly following in the streaming giant's footsteps. In the UK, the BBC outlined its Sounds App as a strategic priority in its annual plan. Multi-tech giant Amazon also acquired podcast publisher Wondery in December 2020 for a reported $300 million to grow its podcast offering. And we can be sure Apple will not go down without a fight. The company is already looking to launch a premium podcast subscription service, but with no confirmed plans Apple will need to move quickly if it wishes to maintain its historic market leader position.
So how will this affect advertisers? Increased competition between the platform giants means we can expect the paid offering of podcast marketing to rapidly evolve, and barriers to entry to reduce. Free audio ad creation alongside demographic and contextual targeting are just some of the tools Spotify have announced to make podcast advertising more accessible and appealing to marketers than ever before. As such, we can expect an increase in advertisers in the market.
Some brands are already there; Hello Fresh is a long-established Podcast sponsor, while B2B brands like Shopify are also present. But new players are also entering the arena. During the Covid-19 lockdown period, eBay wanted to show SMEs that they took care of them during the pandemic through processes such as removing fees and offering support to those with families and mortgages to pay. The ads needed to feel genuine, and podcasts, with their ability to reach highly engaged consumers in a personal space, created the perfect opportunity. The result? Podcast ads were delivered as part of a multi-channel campaign that drove a 256% increase in new start-ups on the platform.
But as the number of advertisers increases, so too does the market. In the nine months before lockdown, podcast listenership had grown by 31%, a figure that is set to rise.  And with 62% of podcast listeners not active on other audio platforms such as radio, the growth of the market could allow advertisers to reach new audiences.
eBay showcased the tangible action that can be driven through podcast advertising. In fact, the perception of podcasts as an awareness driving channel is rapidly changing. Research from the BBC and Neuro-Insight showed that podcast advertising delivered a 57% increase in brand consideration, and a 14% increase in purchase intent, highlighting the role podcast ads can play in direct response campaigns.
In their own words, the Spotify Audience Network marks the start of a 'new era' of podcast advertising. As barriers to entry become a thing of the past, brands would be wise to capitalise on the opportunity podcast ads present.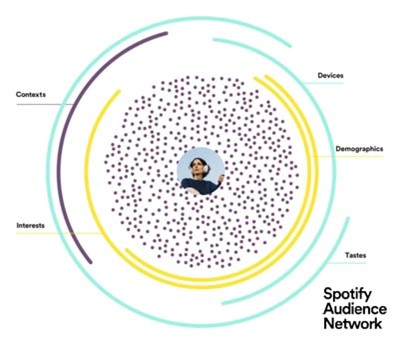 By Abby Latham, Digital Account Manager at The Kite Factory