Do we have your attention?
Panic buying has led to shortages of toilet rolls, fresh vegetables, and this week even yeast. But the one thing the world isn't short of is media. We are consistently glued to TV sets; radios; and our Facebook feeds and are watching television for almost an hour more a day – up by a third vs normal consumption.
Clients who are still investing during this phase of the crisis are spoilt for choice in media selection, but the big question is what to buy? Where can we find consumers both paying attention and prepared to respond? Here's some of our thinking and the latest results from Beehive, our longitudinal results dataset.
The news on TV and digital is not something to be avoided
Brand safety is a hugely important issue for advertisers, and there is an understandable temptation to avoid Coronavirus related content. However, industry research and TKF client performance offers an alternative view.
Lumen, the eye-tracking research specialists, have provided evidence that shows consumers are paying as much as 20% more attention to adverts placed alongside Coronavirus related news content, both in print and online. As they put it, 'attention to advertising is often a function of attention to editorial.'
On TV we have seen viewing of the evening news increase hugely during this crisis as it
has turned into an appointment-to-view event. Further to this, our analysis of client performance, shown below, has found that response rates for spots in the news are significantly higher than campaign averages.
News related media appears to provide an opportunity to reach people whilst they are paying more attention. If so, this is an opportunity we should embrace. Clearly advertisers and agencies need to tread carefully, but blanket avoidance of news content is an overly restrictive strategy that may well hinder performance.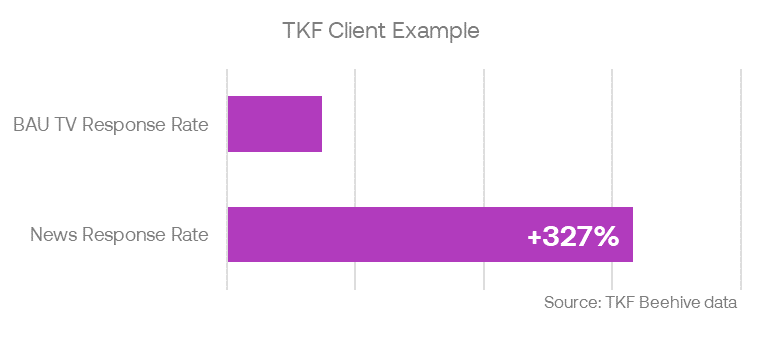 Radio is for the whole day, not just for drive time
According to a recent study into listening habits during lockdown, 65% of people are trying to keep to the same routine in the morning even though they can't go out. But once the radio is turned on, it stays on, resulting in the traditional morning radio peak extending further into the day.

Source: Global
The study goes on to show that audio is serving multiple roles in lockdown, be it to provide information and analysis (42% of respondents) or to distract people and lift their mood (47% of respondents).
This is creating a lot more listening; podcasting network Acast has registered 11m listens in the last week (an all-time record); Global's network listening hours have increased 15% since lockdown, and Bauer's network reach is up 23% since 23rd March.
The channel also benefits from the fact that content can be created remotely and speedily. With radio getting so much more attention, there has never been a better time to 'talk' to the nation.
There is a reason Boris Johnson wrote to all of us
Three weeks ago, a letter from our Prime Minister landed on 28 million doormats. It was effectively old news, having been delivered days behind the same message announced across TV, radio and digital news sites. So why did he bother? The answer is the attention that this particular form of his message received.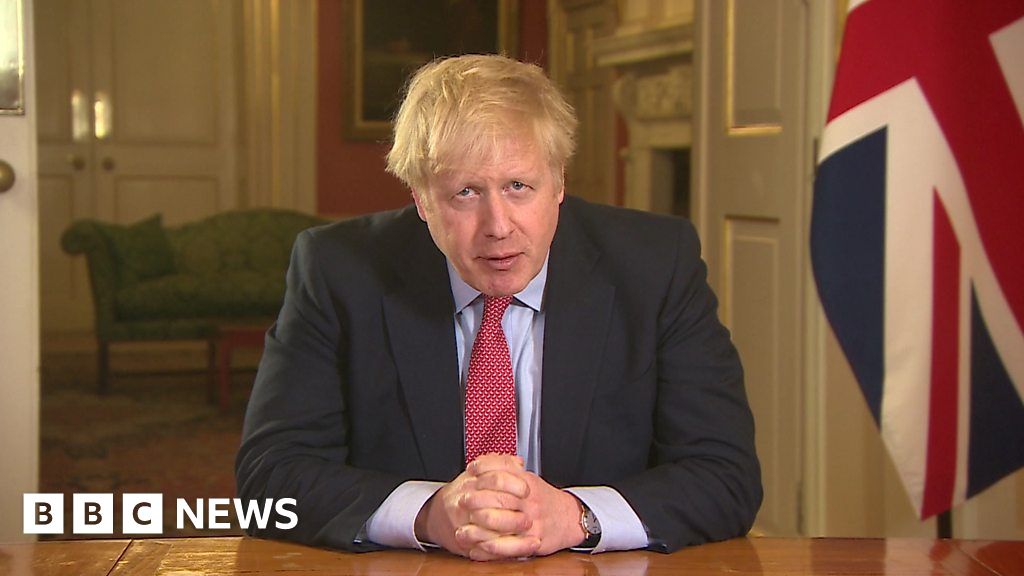 Firstly, it stood out. It will have been one of three letters that we received that day – 33% share of voice anyone? Secondly, it was welcomed. Qualitative research since lockdown has told us that Mr Postie arriving each day is a welcome visitor from the "outside world" and marks an interesting event in our day. Thirdly, it will have been read and re-read nearly five times by every reader. This positively impacted the long-term memory encoding of the message, which was 72% more effective than TV.
For many brands, using mail integrated with TV has long been a powerful and effective way to command attention and dwell time in the home. The change in media consumption that lockdown has brought now makes this truer than ever.