If you scan the headlines, you could convince yourself international travel is back. Seemingly, it's been all good news for the travel industry in the last three weeks.
The 24th October saw PCR tests for those returning to the UK scrapped in favour of the cheaper and easier lateral flow tests. Then on 1st November saw all countries removed from the red list, meaning no more hotel quarantine on return. And on 8th November, Heathrow became party central with jugglers and dancing girls as BA and Virgin lifted off simultaneously to celebrate the opening of the USA skies after a 20-month hiatus.
Bookings were apparently up between 70% and 450% week on week. Unfortunately, though, these kinds of stats spur the question, as with all statistics when quoted – on what base?
Digging deeper, ebullience may be running ahead of revenue.
The UN World Tourism Organisation (who knew the UN promoted international travel?) is a useful and independent data source. Figure one, below left, shows how low the base on which uplifts have been claimed actually is. In July 2021 – the latest data available – global international tourist arrivals were 66% down on the same month in 2019.
More recent data is available from Forward Keys who monitor bookings across c 80,000 international flights. In figure two, below, we show data from October 2021, i.e., almost real-time data. Once again, it's not great news for the travel industry, with reservations made in October 2021 down by 75% on the same month in 2019.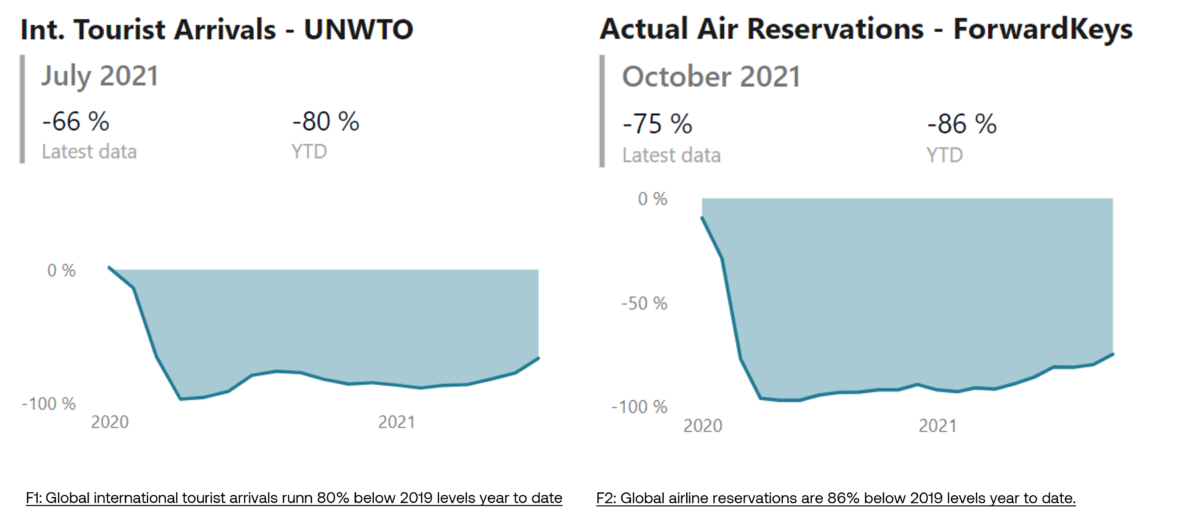 Forward sentiment is little better than current reality.
For our travel clients, we track future interest in making a booking using several tools, one of which is search trends. We track volumes of searches for travel plans in a specific year, and we track these across two years, i.e., the year before departure and within the year of departure itself.
Figure three, below, shows the total UK searches for all Flights departing from 2019 to 2022. The X-axis runs across the two years in each case, i.e., searches in the year prior and the year in question. Historically we saw two peaks in search volumes, one in early autumn of the prior year, both as consumers returned from summer breaks and as they planned for skiing or winter sun, and in the key January sales period. However, neither of those peaks have appeared in the last 20 months, and current searches for flights are running at 50% below norms.
Figure three: searches for flights in 2022 are still half what they were in 2018 & 2019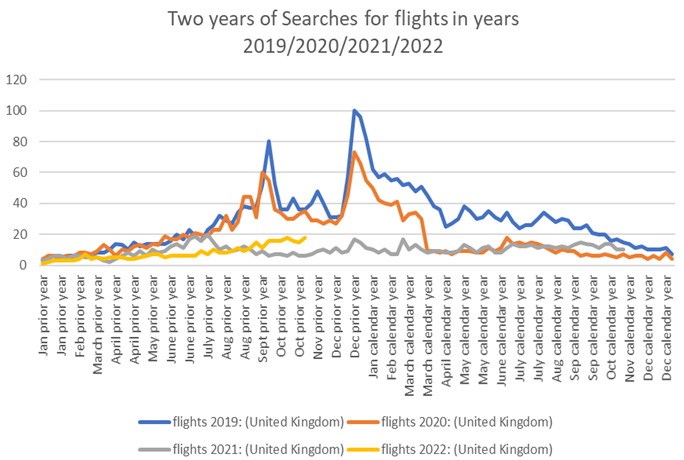 Source: Google data/TKF analysis
If anyone is going to travel, it will be the old.
BVA/BDRC has been tracking consumer sentiment and behaviour in the travel and leisure sectors throughout the pandemic (if you haven't seen their monthly Clearsight report, it's well worth a read). Their October report showed 2% of UK adults having booked an overseas holiday in the last month, compared with c 5.6% pre-pandemic. They also reported on the relative booking levels by life stage group, which is summarised in figure four below. Essentially, the traditional family audience are not flying or booking an overseas holiday – if anyone is, it's the middle-aged with no kids in tow (and it's still not many of them), the recently retired or just practicing.
Figure four: Families are the group least likely to have booked an overseas holiday or flight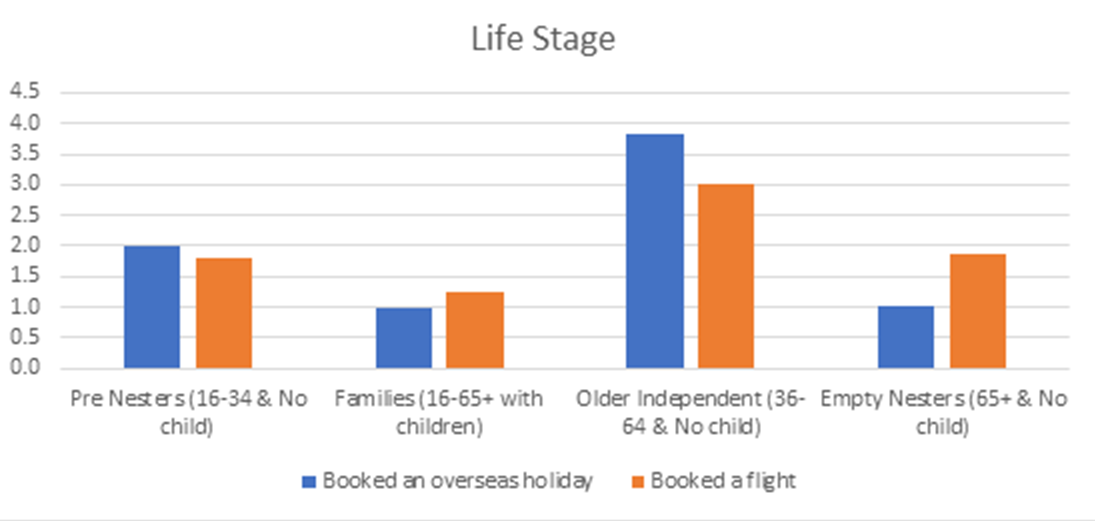 Source: BVA/BDRC October 2021
What does this mean, and why would you care if you aren't in travel?

If you're in travel, you know all the above because you live with real-time data every day. So, there is nothing more we can add (in public at least) that will add value, but make sure to speak to your TKF team for some deeper insights on this subject. If you're not a client, please get in touch and we can share more in private as there are some solutions for some audiences with some products.
If you aren't in travel, then ponder this. Much has been made of the pent-up savings (up to £128 billion or so) that have fuelled the consumer spending we have seen throughout this year. You will almost certainly have been the beneficiary of this and will have seen jolly good results from your media investments.
We now think that this will continue into 2023 and beyond. To put that into perspective: UK consumers spent £62.7 bn on overseas travel (source ONS) in 2019. In 2020 this was just £13.8bn, a fall of 78%. Our best guess is from the data above that overseas travel spending will still be down by 40% or more vs. 2019 in 2022. That's £25bn of discretionary spend that you could make a pitch for.
We think the winners will be "treat" brands, who can offer a product, service, or experience that can be seen as cheerful and compensatory, especially to the family audiences. If you would like to explore this thinking, and specific opportunities for your brand, please get in touch.