Facebook recently announced the latest addition in their host of dedicated fundraising tools, their on-platform donation functionality, which looks to be available for all non-profit advertisers by the end of October. On the surface, this tool is positioned as a revolutionary way for non-profits to streamline their fundraising user journeys and increase donations, all the while, keeping their supporters engaged within the platform. However, when taking a step back from a short-sighted, ROI-first focus, there are other underlying factors that could implicate wider, longer-term acquisition strategies that will need to be considered before progressing.
Enabling consumers to donate directly to non-profits in-platform follows a series of updates in Facebook's progressive move towards offering wider opportunities for charities to grow their direct income and increase brand engagement with their prospective donors.
This all dates back to mid-2016 when Facebook first announced the launch of the non-profit fundraiser and has since seen both personal and birthday fundraisers rolled out. In 2020, pinned as the year of the "Facebook Challenge," Facebook saw 3x year-on-year growth in the number of fundraisers of any type, set up, as well as an increase in the average gift value per donor obtained (NPR). As of March 2021, over 7 million people in the UK had donated to a Facebook fundraiser (UK Fundraising).
Facebook then focused their next update on increasing brand-to-consumer interaction through the rollout of donation stickers, which could be added to organic Instagram Story posts.
This now brings us to the present day, and their most recent update. The new tool allows for campaigns to be optimised towards on-platform donations, and along with it comes two new custom audiences – pools of previous fundraiser creators, and previous donors. For non-profit advertisers to gain access to this, they will need to ensure that they are signed up to Facebook's suite of Charitable Giving Tools which can take between 2-3 weeks to be processed post-application. Advertisers can apply for this here.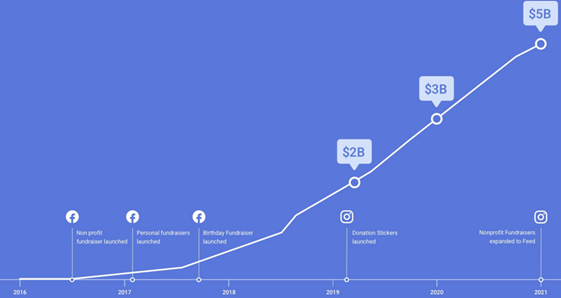 Give Panel: https://fs.hubspotusercontent00.net/hubfs/8395451/Facebook%20Ad%20Power%20Ups%20Webinar.pdf
How will this update influence non-profit advertisers' fundraising performance? 
As anticipated, Facebook's on-platform donation tool brings with it a host of benefits for radically boosting donation income, the most apparent being conversion rates. By eliminating the need for a cold prospect to arrive to site to donate, the convenience of completing this purchase on-platform eases the user journey. It is predicted that conversion rates could be boosted by up to 3x versus a standard on-site donation – of course, this will be dependent on the user journey from landing on the page (Give Panel). With a typical on-site journey, we tend to see just 6% of those arriving to site go on to give.
Having the donation commitment in-platform means that advertisers will be able to bypass the limitations with Apple's iOS 14.5 update, which currently gives all Facebook users the choice to opt out of tracking. Since April this year, this has been restricting Facebook pixel data passback, making optimisation, measurement, and reporting more complicated.
Facebook themselves have pre-warned of hiked CPMs and decreasing data passback to continue in Q4, which will infinitely impact campaign performance (Campaign Live). Although the implementation of their Conversions API is one solution to bypass this, this new update means that reliance on the pixel is completely mitigated, where advertisers will be able to optimise towards an in-platform conversion point instead, ultimately bringing down overall cost per acquisition.
Further, this provides enriched insights into audience engagement and when they are converting. With this comes the ability to create custom audiences such as lookalikes off of current donors and retarget supporters, which otherwise would have been reliant on a pixel to pass this data back into the Facebook platform.
What are the potential drawbacks that non-profit advertisers will need to be mindful of? 
Whilst this all looks like a game changer, we must look beyond the immediate benefits to fundraising performance and be mindful of some drawbacks that could impact longer-term acquisition strategies.
Firstly, as the update currently stands, the tool only allows for cash, or one-off donations, to be given. Although expected, with 78% of all donations being cash, this overlooks the long-term retention and lifetime value that can be achieved with a regular gift (RG), as supporters here will typically make a 12-month commitment, at minimum (NPT UK). During COVID-19, it was donors who were regularly giving that were retained, providing a stronger base of supporter income (UK Fundraising). This means that they are as important as ever and must not be side-lined. So, whilst cash conversion rates may be significantly uplifted with the new tool, it will also be wise to think about its benefit in line with overall acquisition strategies.
With this also comes the loss of taking new donors through a warm support communications journey as you would with an on-site journey (which will also be dependent on advertisers' cookie policies). Despite an on-platform donor interacting with the brand, they will ultimately be uncontactable through direct means such as email, given GDPR limitations.
Taking users on a post-donation engagement journey is inherently essential to establish the connection between the brand and its supporter, as it increases the likelihood of the supporter re-donating in the future or switching to a monthly RG commitment.
Third Sector research from May outlined that 90% of email donation revenue comes from donors who are exposed to an email of a cultivation nature (focused on an engagement ask), versus 10% who received an email of a solicitation nature (focused on the donation ask), so long-term engagement will be very important to consider in light of this.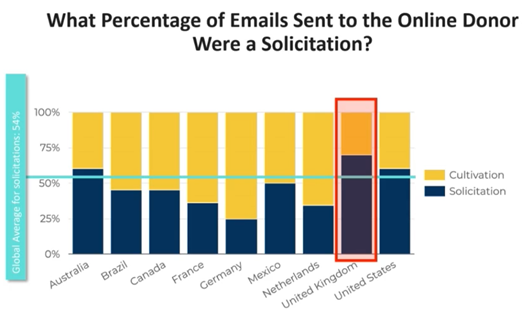 Source: Third Sector research: The mystery donor: how did UK nonprofits perform in secret research on online giving?
Finally, instilling trust in cold prospects will be one of the most substantial barriers to giving. With the fruition of the Facebook fundraiser in 2017, there was a spike in concerns from older donors about entering their card details into a platform frequently scrutinized in the media for data privacy issues (Cyber News). Although Facebook has been trying to reassure its users that the platform is safe from third-party access, concerns are still prevalent in the present day. As the typical donor profile is that of an older Gen X individual, it will need consideration as to how the new donation tool may cause a shift in donor demographics.
Ultimately, incorporating the Facebook donor tool into advertisers' social acquisition strategies will all boil down to striking a balance between what is profitable short-term but ensuring that sight over longer-term supporter engagement and retention is not lost in the process.
By Mohini Lakhani, Digital Planner Buyer