"It's going to continue to be bumpy through to Christmas". Boris Johnson, 4th October 2020.  With such statements creating uncertainty for consumers it can make planning a Christmas marketing campaign a nervy task.
Last week we explored the potential impact of the end of furlough on consumer spending this Christmas which makes the case to invest in media despite looming unemployment rates. This week we look at different customer perspectives on the holiday season and how brands can adapt messaging, media and customer journeys to win them over this Christmas.
One thing is for sure, there may never be another holiday season quite like this one. With the recent 'rule of six' and '10pm curfew' placed on socialising in the UK all hopes of social distancing rules being lifted by the end of the year have been shattered.  Whilst there remain uncertainties about how we might be able to spend the holidays, what's certain is that it will feel a little different this year.
Despite this, 53% of us expect Christmas to be extra special this year (TGI, Q3 2020) which is a perspective shared across all generations. And although consumer confidence is currently at -25 (GFK) it is rarely a reflection of actual spending over the holiday season: if we look back to 2008, despite consumer confidence dropping to -33, grocery sales grew 8.1%. Compare this to 2019 when consumer confidence was at -11 and grocery sales saw just 0.2% growth. So, we can expect people of all ages to make the most of Christmas whatever their situation.
We've explored four different audience perspectives and their needs leading into the holidays as well as describing the role for brands this year.
Helping apprehensive parents make it an extra special Christmas
Making the online experience a breeze for assured Gen X and Boomers
Reaching younger consumers with mega sales to tick-off their Christmas shopping
Empowering local shoppers to give back to the community with meaningful marketing
Helping apprehensive parents make it an extra special Christmas
Given the lack of excitement this year many people are looking to the Christmas holidays to cheer them up. This is particularly true for parents with 58% agreeing that Christmas will be extra-special after such a difficult year due to coronavirus compared to just 52% of those without children in the household (TGI Q3, 2020).
However, 40% of parents are concerned about covering the costs of Christmas this year and 51% plan to buy more Christmas presents online rather than visiting the shops showing a hesitation to visit the high street. Despite this, parents are typically one of the highest spenders at Christmas with 1 in 4 usually spending over £500 on presents.
Brands looking to connect with parents will centre on creating magical moments for the family. When it comes to media channels, using those most effective at evoking emotion will be as important as ever, with 'at-home' channels such as TV, VOD and online video being the safer bet over cinema which will continue to see lower attendance due to major movie releases being delayed and the knock on effect of cinema closures.
To add to this, we would recommend exploring the use of partnerships as a recent study by Whalar found that social media influencers can be just as effective at driving an emotional response as TV if done right. Key to increasing emotional response and memory is the tribal following of micro influencers as many follow individuals who are personally relatable and share the same values.
Helping this audience avoid the shops and send special or personalised gifts from afar will be a winning tactic for brands this year too.
Making the online experience a breeze for confident Gen X and Boomers
This year has seen exponential growth in mobile and ecommerce, and it is set to continue into the holiday season with 43% of adults saying they plan to buy more of their Christmas presents online this year (Facebook IQ 2020). And according to research commissioned by Facebook the greatest growth in time spent on mobile as a result of corona virus came from Gen X and Boomers, up 72% and 50% respectively.
For many of this audience they have a 'Christmas as usual' attitude with 48% of Baby Boomers claiming they are happy to splash out at Christmas as it is only once a year (TGI, Q3 2020). This audience are more financially secure and less likely to hold back on luxuries, not just for others but for themselves too. So, this audience will respond best to premium brands across all sectors especially alcohol, confectionary and toiletries. Communicating with this audience can be open to promoting self-indulgence as well as generous gifting by providing inspiration in social media and online.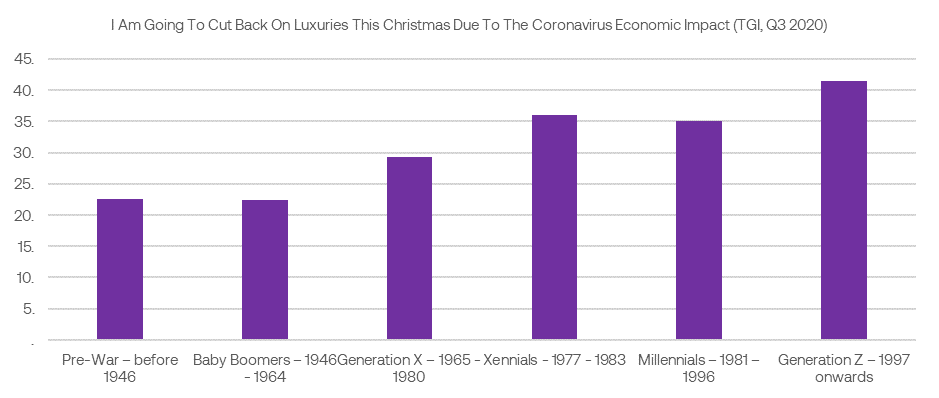 A priority for brands will be to reduce friction for consumers visiting their site on mobile devices this Christmas. A survey of mobile shoppers in Christmas 2019 found that 32% of Baby Boomers found the font size too small when shopping on mobile and 30% of all consumers said the app/website took too long to load.
Whilst this laid-back audience are more likely to be using mobile and ecommerce than ever before they are also the most likely to mix digital and physical, so promoting click and collect services will be an engaging approach. This will become increasingly important for last minute shoppers too – flexibility in adjusting the customer journey will be crucial to make performance media more effective as the cost to reach consumers increases in the lead up to the 25th December.
Younger consumers will depend on mega sales more than ever to grab a bargain
There are just as many 15-35's saying they 'will be spending less on Christmas presents than usual' as those who will be spending more (14%, TGI Q3 2020). This polarised audience are most likely to be affected by the current economic environment and job market but are also most likely to say they will save money not going out this Christmas.
With the pubs shutting early and less money spent at Christmas parties, one way to engage this audience will be to reframe products against a different competitor set to those festive indulgences usually enjoyed outside the home. For example Nespresso's reframing of coffee at home to the cost of a coffee shop meant they could increase the cost of their capsules. Pumpkin Spiced Latte anyone?
For price-sensitive shoppers many will be waiting for mega sales such as Black Friday and Cyber Monday with 1-in-3 saying they will wait for products to be on promotion, discount or sale.
With store footfall down and the battle for share of voice playing out online expect to see cost per thousands and cost per clicks rise higher than usual with extended sales periods starting as early as October. Diversifying your online channel mix with budget fluidity this year will increase the number of levers you can pull and customers you can reach with offers and promotions to get them through the virtual door.
According to Outbrain 51% of consumers say they will start browsing earlier this year and data shows that sales before Cyber Weekend typically showing a higher order value. Which makes October a good time to start increasing share of voice if you have the agility, flexibility and resources to do so.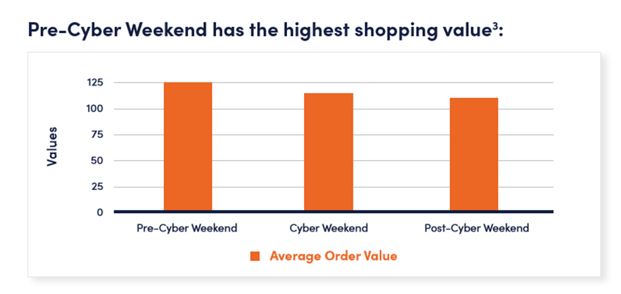 Source: Outbrain-Guide-Cyber-Weekend-Insights-and-Strategies-Amid-COVID-19
 Empowering local shoppers to give back to the community with meaningful marketing
1 in 3 of us plan to shop for food and presents more locally this year. Those with this mindset are searching for a more meaningful Christmas with a focus on making connections with friends, family and the community.
Brands that avoid a tone of materialism will find success with this locally minded audience. Giving Tuesday has continued to increase momentum in the UK with over £14m raised in one day last year. We expect the 1st December to surpass previous interest with not-for-profits appealing for donations to make up for the impact of corona virus.
Tapping into local media such as radio or regional press combined with tailored messaging and rich partnerships will create cut-through with this audience, and with smart planning and negotiation, local OOH executions could build positive brand sentiment too. We've been working with brands to create more localised ads using our designers to adapt digital content to great effect.
We anticipate charities and brands to come together more than ever this year for mutual benefit. Brands will extend the reach of charity appeals and charities can offer a benevolent tone of voice to a festive campaign.
In conclusion
Expect people to treasure their time spent with friends and family this Christmas. It will still be a time to shop, gift and celebrate. Above all pin down customer insight when crafting your communications so you can strike the right tone and convey the right message to your target audience. Some final thoughts on Christmas 2020:
It has been a tough year for everyone; be creative with media placement to inject some festive wonder and connect with audiences
If you do one thing before we enter the Christmas period, review the speed and UX of your website and app – your customers will be visiting you online more than ever. The Kite Factory and our agency partners can help optimise customer journey or direct people to the most robust parts of your eco-system
Think about how you can be agile this quarter; start as early as you can and keep budgets fluid with flexibility in your media mix
Media behaviour and context can reflect purpose and meaning. Christmas 2020 is a chance to give back to the community, not just because it will create growth for your brand, but it is good to be kind.