By Milly Brown, Digital Planner Buyer and Megan Ashdown, Digital Account Director 
Here at The Kite Factory and within the digital team, people have volunteered to champion a specialist area within the industry to help to foster growth internally across various skill sets. Megan & I are focusing on the topic of planning, looking to feed through expertise from our amazing strategy team into the digital team to ensure the high level of ideation, strategy and audience work is fed into every plan. Our current challenge is looking at how we can approach the commercial calendar moments to play them to our advantage across our various charity clients.
One of the biggest commercial moments across the retail calendar is Black Friday. Since its breakthrough into the UK market in 2010, Black Friday campaigns have significantly evolved. While for the first time Black Friday saw a reversal of growth in 2021, it still generated $8.9billion. Additionally, over the Black Friday weekend, shopping centre footfall on average increased by 95.9%, showing there are opportunities to reach audiences at different touchpoints of their day, a marketer's dream!
Most recent developments in Black Friday culture have included increasing controversy around the sustainability & ethical nuances of the event. As we move into 2022, there are challenges around whether it's ethical to advertise non-essential items during the cost-of-living crisis, with the potential for this to make space for publishers outside of eCommerce and shopping brands. This controversy has allowed for moment creation focussed on changing perspectives across Black Friday, opening an opportunity for Charities to play in this space with increasing authority.
These voices range from an opposition perspective – such as 'Green Friday', used by WWF & 'Which?', through to alignment with commercial brands that are looking for opportunities to give back, seen through Partnerships such as Hush & Crisis. Here Hush donated 20% of all online sales in 24 hours – between 0:01 to 23:59 – on Black Friday to the 'Connect for Crisis' initiative for the homeless. Together, they ended up raising over £70,000.​
And the potential doesn't end there for charities. Our audiences are also looking to give back, with 60% of people using the period to buy gifts for family members. With people in the giving spirit, Giving Tuesday was created as a direct response to Black Friday; and generated a world record for the most money raised online for charity in 24 hours. In 2020, Giving Tuesday raised more than £20 million in donations, generating 360 million impressions on Twitter whilst trending all day with 678 million media mentions. Which leads to the question of how can charities be a part of all of this?
As strategy champions, we wanted to ensure these opportunities were being highlighted and considered across our teams. Therefore, we ran an internal ideation session to combat the following challenge relating to Black Friday:
"With issues such as the cost-of-living crisis affecting both the commercial and non-profit sectors in Q4 2022 – how could your charity approach Black Friday Digital Strategies to fully capitalise on one of the most cost-heavy weekends across the year". Teams were required to answer this from the perspective of a fictional children's charity. 
Each team was then required to write down a series of words all relating to "challenges" that could be associated with the above brief, which was later combined with a randomly selected media solution. Then, using a combination of two of their "challenge" words and this media card, the teams had 10 minutes to solve the brief. To ensure they weren't biased towards a specific client, we ran this brief for an imaginary children's hospital in London.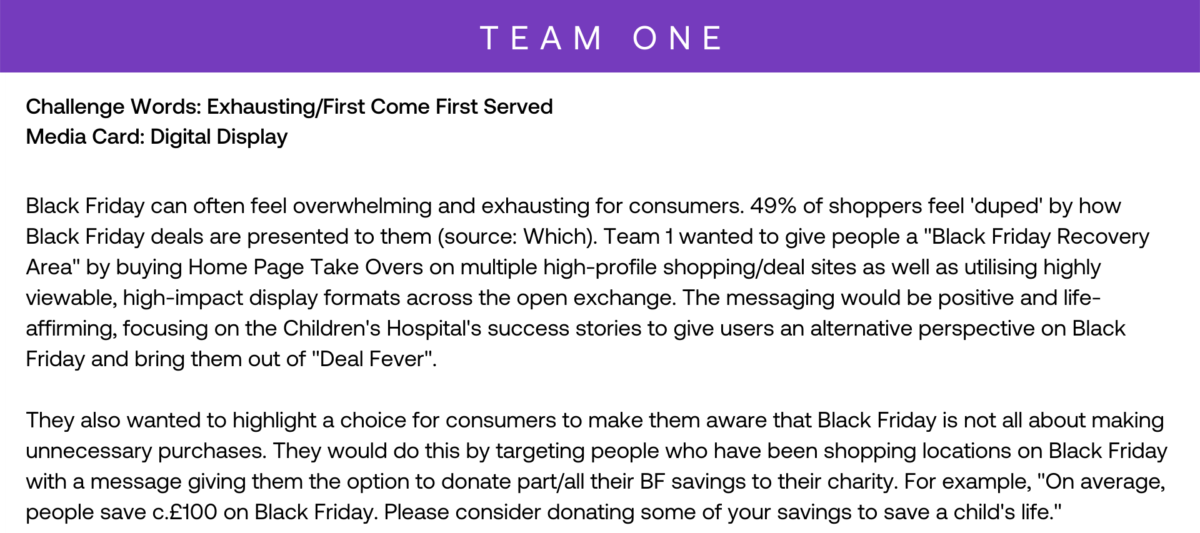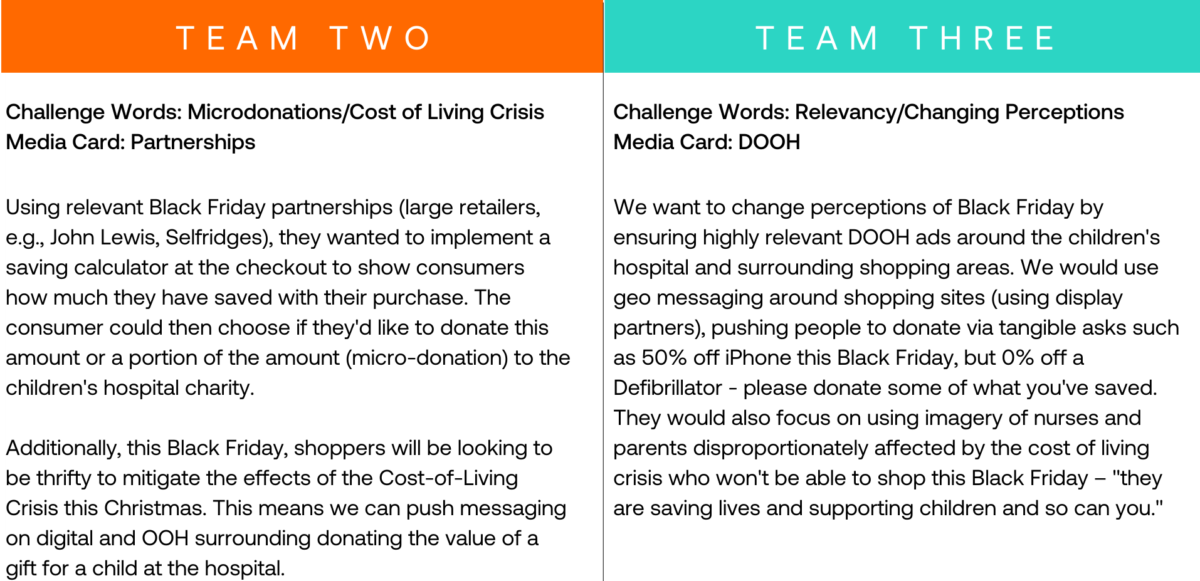 We then looked at how common themes that appeared within the session can be transposed amongst our clients, such as:
Using Black Friday savings to donate to Charity.
Use of geo-targeting around charity locations or shopping centres to try and cut through to shoppers.
Capitalising on "smaller" and "microdonations" by instigating various forums to push users to donate at greater levels but in smaller quantities.
There are unlimited avenues of ways that charities can penetrate commercial moments. Still, your starting point is always to consider what stance to take on the movement overall and how this is relevant or aligns with your cause. Starting with big ideas and churning these up using ideation techniques such as workshopping or a word association game relating to your challenge will ensure conversations are happening around bigger thinking, alongside tactical discussions around scaling within realistic means.
By running this internal workshop, we were able to spearhead our digital planning across relevant charity clients and pre-empt challenges and conversations our clients might have. As well as this, we've transposed the training into conversations and planning around Black Friday moments, utilising our core TKF values of Heart, Art, and Science to elevate our ideas and plant the seeds for creative growth across our non-profit clients.