Every year for as long as we can remember, some pundit has predicted that this year will see the demise of printed newspapers. But each year, as with Mark Twain, it turns out that "rumours of my death have been greatly exaggerated".
The last ten years have seen advertising revenue to print editions of newspapers halve in the UK, as seen below.
Source: AA/WARC
Global newsprint tonnage has halved since 2005, but still newspapers hung on in there. They may have been diminished but they hadn't been defeated.

Source: UN FAO
Unfortunately, just like the dinosaurs after Chicxulub, this year's out of context problem may be enough to produce the extinction event that will finally see the end of printed newspapers and their supplements, at least for the casual buyer.
The problem is one of critical mass. In 2005 nine of the ten daily newspapers had a circulation of more than 400,000 copies. In June 2020 only one of the ten still does.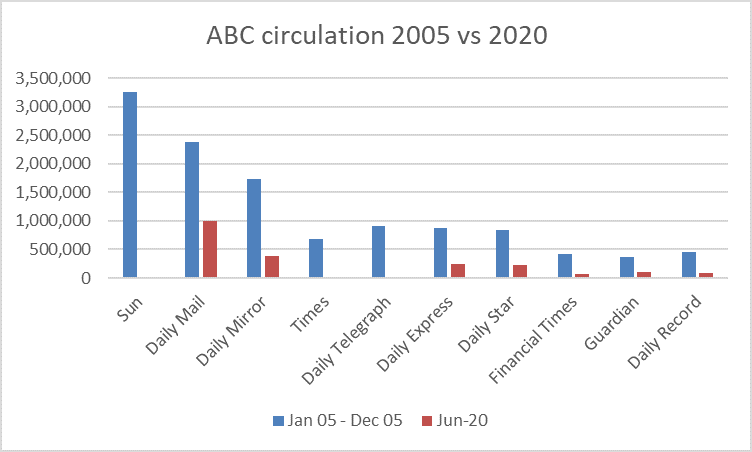 Source: ABC
The Times, Sun and Telegraph have all removed themselves from the fray- refusing to participate in the audited circulation figures that ABC have provided since 1931. But assuming their decline mirrors that of the papers still publishing numbers, we now have a market in which only one title has a circulation of MORE than 400,000 copies. Circulations have fallen by an average of 70%, or 8,400,000 copies per day.
Ad revenues have followed, with the Covid shock possibly being the last straw. The Daily Mail saw print advertising revenues fall by 70% YoY in Q2 2020, with digital revenues down by 17% despite a 37% rise in audiences. Publishers have been quick to cut costs- with Reach making 500 redundant and even The Guardian cutting 180 jobs. But we may well have reached a tipping point. Newspaper publishers are so concerned about low volumes of print papers that they have appealed to the government for support to avoid a collapse of the distribution supply chain.
We see a medium-term future- possibly even arriving by Christmas, where newspapers will be available only in print form to subscribers, with all other readers being migrated to digital only- either as free or paid digital subscriptions. The Times is the best example of this, with now 345,000 paying digital subscribers.
For most clients this will not matter. We estimate that around half of the £1.7bn spent by advertisers in newspapers last year can move to other media channels with no impact on effectiveness.
Some sectors will, however, face a significant challenge. Newspapers have provided a destination marketplace for travel advertisers. Audiences have self-selected, particularly the lighter or occasional buyers, when seeking inspiration on destinations or trips. The medium has been ideal for advertisers, providing high attention, high dwell time readers, capable of consuming long and detailed copy, and with production economics that allow a new ad for each cruise, holiday or trip.
Other sectors, including entertainment and events favour the medium for exactly the same reasons. Ironically neither of these two sectors need worry about the availability of newspaper copies for at least the remainder of this year. But when they return to investing in acquiring new customers, they may find a significant and historically very effective channel not available to them.
If you've enjoyed effective returns from print newspaper advertising until now, be that in paper, supplements, or as inserts, then this autumn is the time to start diversifying your channel planning. You'll have spare budget as your newsworks rates will have followed circulation down, so rather than save it and lose the revenue it would have generated, ask yourself two questions; where is my audience now seeking the content that they found in newspapers and is it paper or pixels that they are now looking at?
Finding answers that are as effective as the printed news once was for you might be challenging, but surely less challenging than accepting your revenue base and business will be smaller going forward.