Despite the complaints, we think Tesco has nailed the mood of the nation this Christmas. Backed by a vintage Queen soundtrack, the ninety-second story of the UK's determination to party despite the odds has caused quite the media flurry. In the red corner: some 3,000 anti-vaxxers have shot off complaints to the ASA. In the blue corner: behavioural evidence would suggest, are the other 99.999% of the UK population. Our money is on the 99%.
Back in August, with 2/3 of us feeling that we had been cheated out of Christmas in 2020, we advised clients to go large and go early for this years' festive period. Pointing to 2020 shopping behaviours (see figure one below), we recommended capturing both the consumers desire to spend and their desire to ensure that "Christmas was sorted in good time".
F1: More than half of us had finished our Christmas shopping by 7th December 2020

So, how is Christmas 2021 panning out?
Consumers are in the mood to spend.
The GFK confidence index, both overall, and for major purchases, have up ticked in the last month (see figure two below).
F2: The GFK major purchase confidence index has jumped seven points in the last month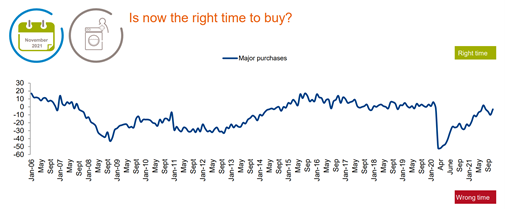 Source: GFK November 2021
That mood has pulled through to real world spending
Fable data provide near real-time tracking of bank account and transactional spending across Europe. In the week ending November 14th, UK bank account spending was up 14% on the same week in 2019, and by 19% compared with 2020. ONS data supports this trend, with credit and debit card purchases up by 4% year on year for the same period.
F3: UK bank account spending was up by 12% vs 2019 in third week November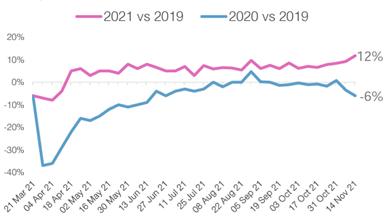 Source: Fable data 19th November 2021
And much of that spending is happening across both physical and virtual high streets. As a result, year-on-year retail sales growth, in negative figures for much of the last two years, has now reached growth levels not seen for a long while.
F4: Retail sales volumes are now 6% above pre-pandemic levels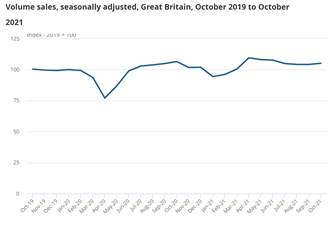 Source: ONS 19th November 2021
We are spending on experiences as well as stuff
As a nation, it appears that we are well into our training regime for the party season.  November has seen us spend 10% more on entertainment and leisure than we did in the same month in 2019. Figure five, again using data from Fable, shows restaurants as big beneficiaries.
We may not be "out, out" quite yet, but we are certainly out in force. Even Sadiq Khan has noticed this and as such brought back the much longed-for night tube last week. It's party time again.
F5: Spend in restaurants is up by 12% on 2019, driven by 16% more visits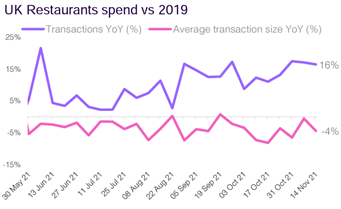 Source: Fable data 19th November 2021
Demand for media is also up
Figure six shows revenue growth for broadcast TV advertising by month for 2021 vs. 2019 as a proxy for demand for all media. (It's a good proxy). The early lockdown months are marginally behind the last normal months of spring 2019, but after that, it's all growth. Plus 20% for April and May, dipping in the summer when we were open in 2020, and then the monster demand of plus 30% growth as advertisers stimulated demand for an early Christmas.
F6: Broadcast TV revenues reflect advertiser investment in driving Christmas spending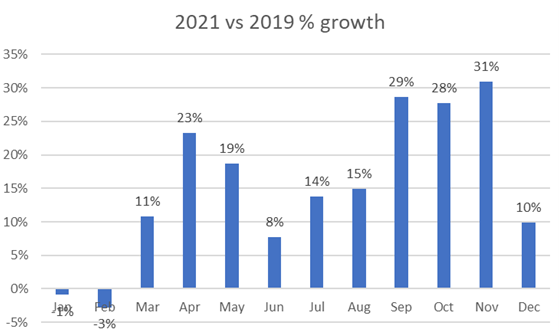 Source: TKF
So, what might all this mean for advertisers right now?
We haven't just written this as a self-congratulatory piece. After all, nobody likes a smart arse, do they? Instead, two reasons have driven us to put pixels in your inboxes. The first is to reassure, and the second is to point out an opportunity.
Firstly, the reassurance.
If you aren't selling time-sensitive "stuff" right now, you will probably have seen a downturn in response. That's almost certainly driven by the collective madness in the force over the past couple of weeks. We expect this to last until around 10th December, by which point shopping will slow. That's because most people will have bought most of their stuff, and home deliveries will be so backed up that any new order won't make it in time for Christmas.
Secondly, the opportunity.
December, albeit at 10% growth, is showing one of the lowest demand levels for media of the year. Traditionally this would be boosted by late investments from retailers and by travel clients, but we don't see either of those categories adding significantly to this month's media market, and thus we could see relative value in the back end of the month. We would also expect response (especially for Christmas messages) to be higher. So, if you have a non-tangible or virtual service / product that can be bought in-store as a "top-up treat", this could be a tactical and profitable opportunity to close the year off with a bang.