Every media channel has been hit hard by COVID, but none more so than the silver screens who face the twin challenges of requiring people to leave the safety of their homes, and to sit in an enclosed space in proximity to strangers. Enforced closure meant that advertising revenue fell by 100% in Q2. 
From July, cinemas in England were permitted to reopen and whilst not all have as yet, there is at least the opportunity for revenue to return. That return, however, has seen slow progress as the charts below show. Aggregated data, courtesy of the FT & Google shows visits to cafes, restaurants, cinemas, museums & theatres are still down 45% versus this time last year.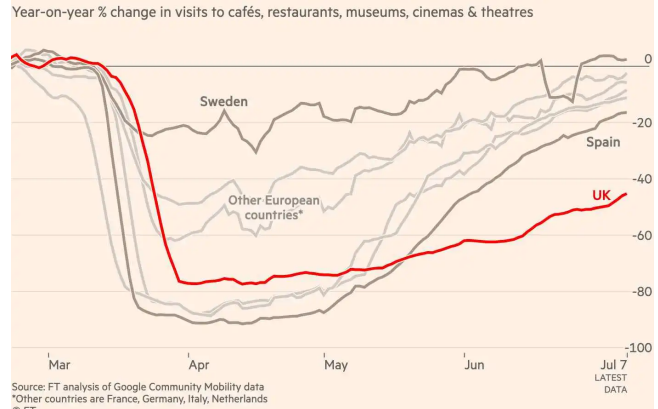 Data from Pearl & Dean also compares revenue from films currently on release with those released in 2020 pre lockdown and while there may be revenue, it's not within an order of magnitude of before.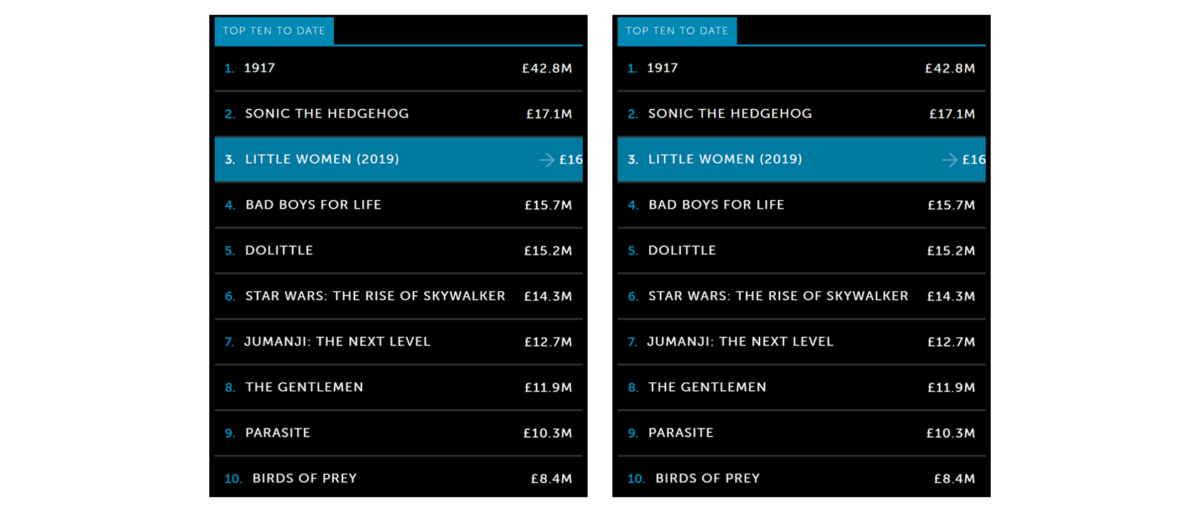 Now I for one haven't been brave enough to sally forth to the local Odeon as yet, but this weekend did see me back at the cinema; a glorious Friday night in the front seat of the car with my best beloved at the Luna cinema drive-in at Blenheim Palace. 
As the sun set, some 300 cars were carefully positioned in socially distanced rows and staggered columns to ensure everyone had a good view of the huge screen. Framed by the palace in the last rays of the sun as we arrived, this was impressive in itself. Even more impressive was the organisation. From the sanitised speakers that provided a mini-boom box to each car; to the effortless entry and exit (we Brits are so good at queuing, and even more so when someone actually manages a queue); to the ordering of food and drink via QR code; to the dozens of masked and gloved local teenagers delivering brown bags containing said food and drink the car. 
Magic radio provided an anthem-heavy warm-up soundtrack, and by the time the familiar Pa-Pa-Pa-Pa-Pa-pa Pearl & Dean soundtrack rang out from every car, the audience was ready to play. 
The ad reel itself was a little disappointing. I greeted it first with joy – rather like seeing a friend after a long absence – but that joy became slightly muted at the lack of length and distinct lack of quality. Green Flag, Magic Radio and Make A Wish foundation all had the feel of cobbled-together materials.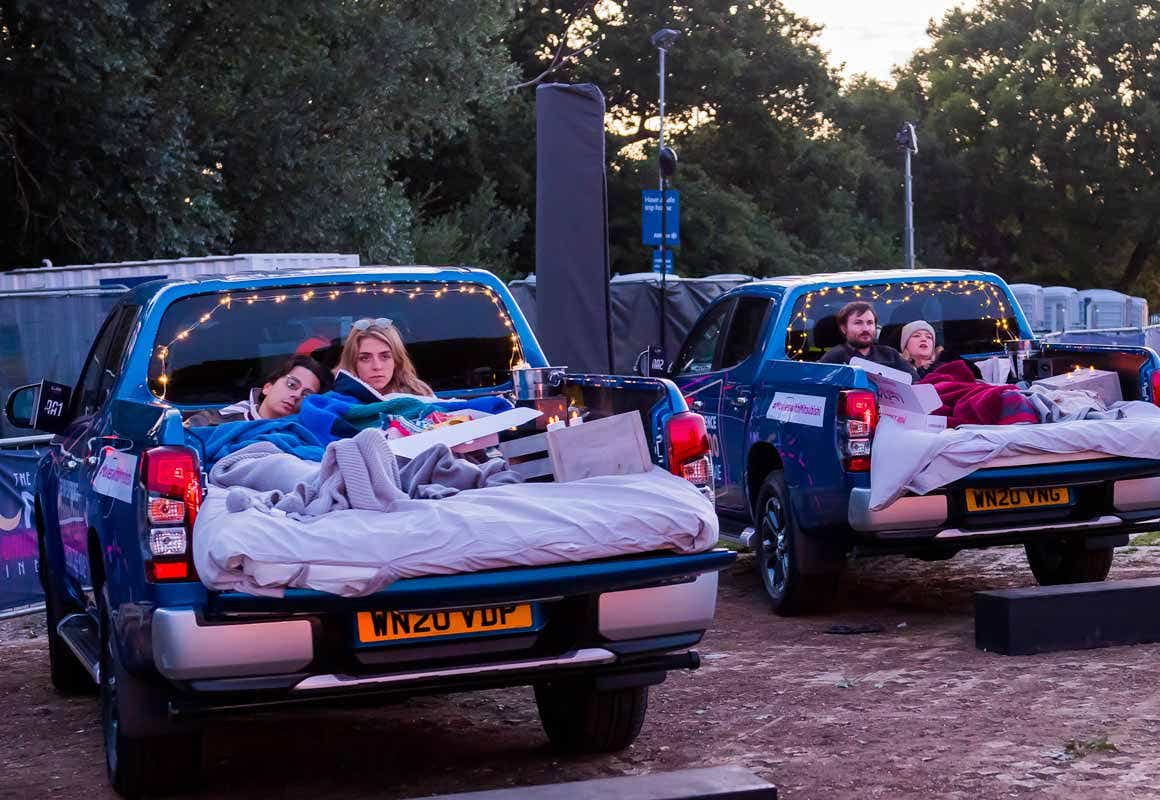 One brand, however, stole the show of the night, and that was Mitsubishi. As headline sponsor of the evening (and the season), they had the prime top and tail slots in the reel. They provided a slick, beautifully shot, set of car ads that stood out from their stablemates. But they won the day not on the screen but on the ground.  
They had cleverly worked with Luna cinema to integrate themselves into the product. This culminated in them offering the ultimate VIP seat – a custom-built bed for two in the back of one of their pick-up trucks, complete with pillows, blankets and a hamper of goodies to snack on. Priced at £80 for the evening these tickets sell out way before any other category, elevating Mitsubishi from a functional brand to aspirational in one simple framing.  
What the evening brought home to me, apart from reminding me of the simple joy of community (1,000 people all doing the Time Warp whilst sat firmly in their car seats was a sight to behold), was the power of a real event in what has become a virtual world.  
At a base level, the ads had more impact (and were watched!) because an audience had turned up early, wildly enthusiastic for an IRL experience. At the elite level, Mitsubishi has set an exemplar of how brands can change opinion and create word of mouth by creating real-world experience value for consumers. 
The in-home media opportunities in this new world are obvious and plentiful. Events and experiences in the real, out of home and out of comfort zone, are less obvious and harder to imagine and execute. But they may offer high reward returns to brands who can deliver them, both in terms of real brand love from the few present on the day, and by creating content to add value to those who couldn't be there.  
Who knows – maybe FOMO might be a more powerful lever to help us all return to the real world than a £10 lunch voucher this summer after all… 
By Mike Colling, Founder