Why is it that we can celebrate the achievements of Paralympians yet refer to others in society with similar conditions as 'disabled'?
In the run-up to the Paralympic Games kicking off this week, I've turned on my TV to be greeted by the wonderful Channel 4 ads depicting the athletes and the blood, sweat and tears they've had to endure to achieve their status.
It's a fantastic show of the hardships different people have to deal with in order to make themselves what they are today. These ads seem to have been very well received and I haven't seen any arguments against the depiction of the strength of the athletes in them.
So why is it that we can celebrate the achievements of these people, yet refer to others in society with similar conditions as 'disabled'?
If you think about that word – disabled – we are saying that the person we're talking about does not have 'ability'; that they are 'not able'.
This is a stark contrast to the strong, resilient, tenacious individuals we see depicted on Channel 4. Of course not every wheelchair user, amputee or individual with any other visible or invisible condition has achieved the accolades of these well known Paralympians.
I would, however, hold everyday differently abled individuals in similar esteem for enduring some of the challenges depicted in the ad on an every day basis.
Challenges everywhere for non-sporting heroes
One of my favourite parts of the Channel 4 ad is when Paralympian rugby player, Kylie Grimes, is unable to enter a café due to a step just a few inches high, despite all the other incredible challenges she'd overcome on her journey to Paralympic stardom.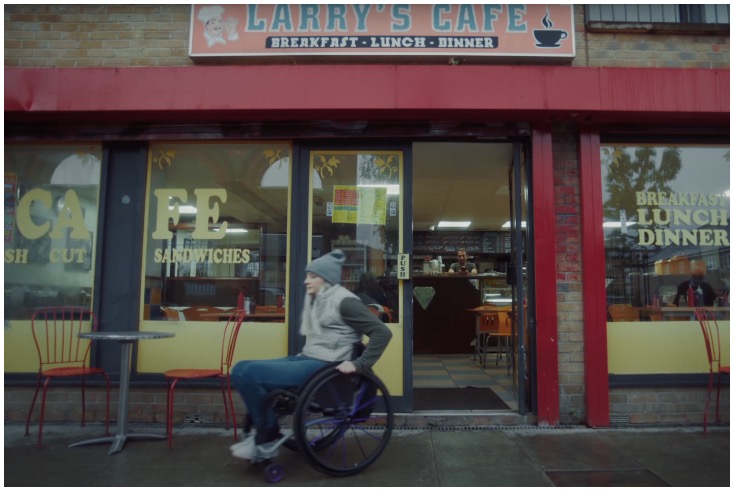 I don't know if you've ever tried navigating London in a wheelchair but I have – once – and it's not an experience I'm keen to repeat. I attended a conference called Mozfest a couple of years back and my own medical conditions meant that I had to use a wheelchair as I would not be able to stand up independently whilst attending seminars.
I travelled from Leatherhead on the train to Waterloo and then from Waterloo I got on the Tube and then the DLR to get to Greenwich. Even during that couple of hours of travel I could feel my heart swelling in empathy for the individuals who need to endure these kinds of journeys on a daily basis, and feeling so grateful for the ease with which I would usually travel.
I can imagine some of you are now thinking: "But we have wider ticket gates and step-free access! London is pretty good with accessibility!"
You know how lift shafts have to be built in a part of the structure that allows all-floors access? In train stations, this can mean wheelchair users or anyone unable to use escalators needs to transport themselves to the far end of the station in order to use the very function that was there to help in the first place.
It doesn't sound like a huge problem, but this is an extra inconvenience to have to deal with, especially if experiencing chronic fatigue. Platforms that are level with the floor of the train seems like a really helpful thing and for many I'm sure it's a complete game changer however my wheelchair had small wheels at the front; just small enough to wedge in the gap between the train and the platform.
The only reason I managed to make that journey without too much incident was thanks to strangers noticing that I was struggling to get off of the train in time, making the very brave, surreptitious decision to push my wheelchair with enough force to ensure my safe landing on the platform before the train doors ate me.
I even struggled with getting Ubers as many drivers claimed that my wheelchair would not fit in the back of their car (despite the fact that I was using a lightweight foldable chair which takes up about as much space as a suitcase).
We risk overlooking people's strengths by attaching negative labels
I am not saying that people should be considered a Paralympian for getting a train, but I would argue that the significance of the Paralympians challenges are too far from those experienced by 'everyday' differently abled people. These frequent and unrelenting marginal challenges can become really intimidating and could cause even the strongest among us to just give up.
While we take a positive inclusive step by heralding Paralympians for their strength (with the word 'Paralympics' literally meaning 'alongside/parallel to the Olympics), we then take two steps back by referring to others as 'disabled'; the etymological definition of which is "the opposite of abled".
No individual is 'not able'. For example, I'm useless at skateboarding, algebra, and I can't run without becoming bedbound the next day (thanks, spine…), but you better have your wits about you if you want to win a game of Scrabble against me.
We all have different abilities, and that's exactly how we should be referring to those with apparent limitations; differently abled.
If we take 'differently-abled' literally and consider the potential strengths of perceived limitations, individuals who have had to adapt to the world around them are likely to be unusually good at planning and organisation due to the foresight needed to cater to one's needs (medication, seating, accessible facilities etc) with minimal personal disruption.
That's not to mention the sheer resilience required to endure stares or comments from strangers, clumsy words from colleagues, and the isolation that can come from logistics-dependent exclusion from certain gatherings or events. Managing this every day doesn't sound like a lack of ability to me.
Aside from the skills that are gained from constantly needing to adapt and overcome, unless inherently related to an individuals state or condition, there is no reason a differently abled individual wouldn't be amazing at any number of activities.
There's no reason an individual with muscular dystrophy couldn't write a fantastic book – Laughing at my Nightmare by Shane Burcaw as an example. Equally I can't think of any reason that using crutches, being deaf, or having bipolar disorder would stop someone from being an amazing fashion designer, an excellent accountant, or an awesome actor.
And, for that matter, we all know that individuals in wheelchairs could destroy you in basketball, and that standing at 123cm wouldn't stop Ellie Simmons from caning you in a swim race. I urge you to visit 'The Amputee Swimmer' channel on YouTube, run by a good friend of mine, and tell me if you think 'disabled' is still an appropriate word.
So the next time you hear or use the word 'disabled', think of the incredible strength and skill of the Paralympians we're so proud of, consider your own strengths and weaknesses, and give 'differently abled' a go instead.
By Niki Grant, Director of Search as featured in Mediatel