With inclusive media planning rightly at the forefront of industry discussion, we were very pleased to see that the most recent update to Kantar's TGI survey includes a wide range of new definitions for different ethnicities. There are now 15 options for ethnicity that can be selected as a target audience, as listed below:
White – British
White – Irish
White – Any other backgrounds
Mixed- White and Black Caribbean
Mixed – White and Black African
Mixed – Any other mixed background
Asian or Asian British – Indian
Asian or Asian British – Pakistani
Asian or Asian British – Bangladeshi
Asian or Asian British – Any other Asian background
Black or Black British – Caribbean
Black or Black British – African
Black or Black British – Any other Black background
Chinese or other ethnic group – Chinese
These groups comprise millions of people
22.5% of the UK identify as an ethnicity other than White British, which is nearly 12 million people. However, there is a huge variety of different cultures represented within this 12 million. As the chart below shows, many of these groups are made up of several hundred thousand people, and treating them as a single audience would be a crude approach at best. This latest TGI update means we can now delve further into these sub-cultures, allowing us to examine their demographics, behaviours and motivations.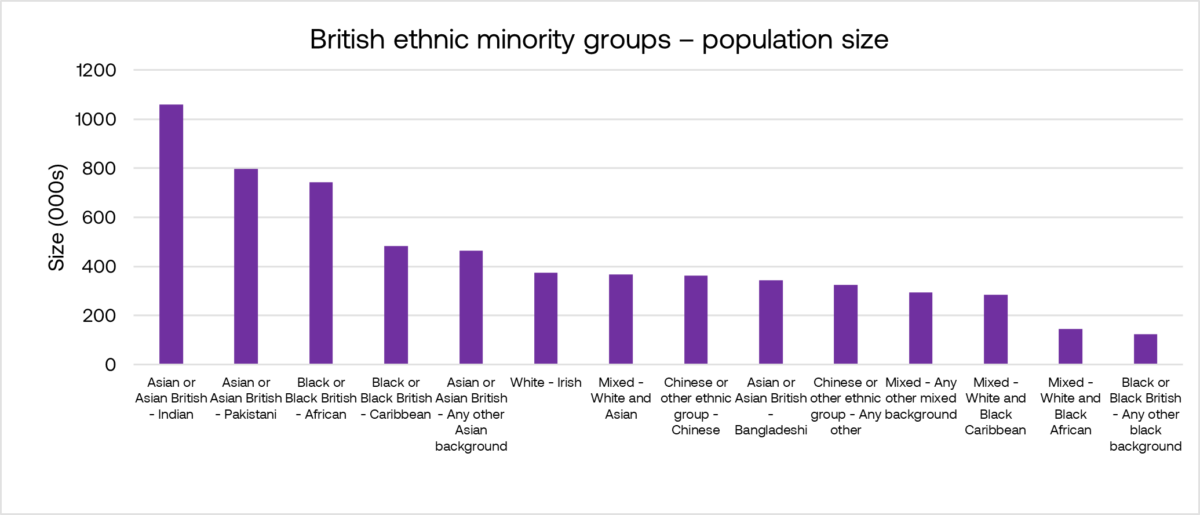 Each group has their own media preferences
We know that there are many different cultures in these groups, but how do their media behaviours compare? To explore this question for different ethnicities, we have selected White British, British Indian, Black Caribbean, Black African and British Chinese. As you can see from the chat below, media channel preferences vary significantly between the different groups. For example, Black Africans are much more likely to be heavy consumers of mobile internet and outdoor, while British Chinese are far more likely to be avid cinema goers than other groups.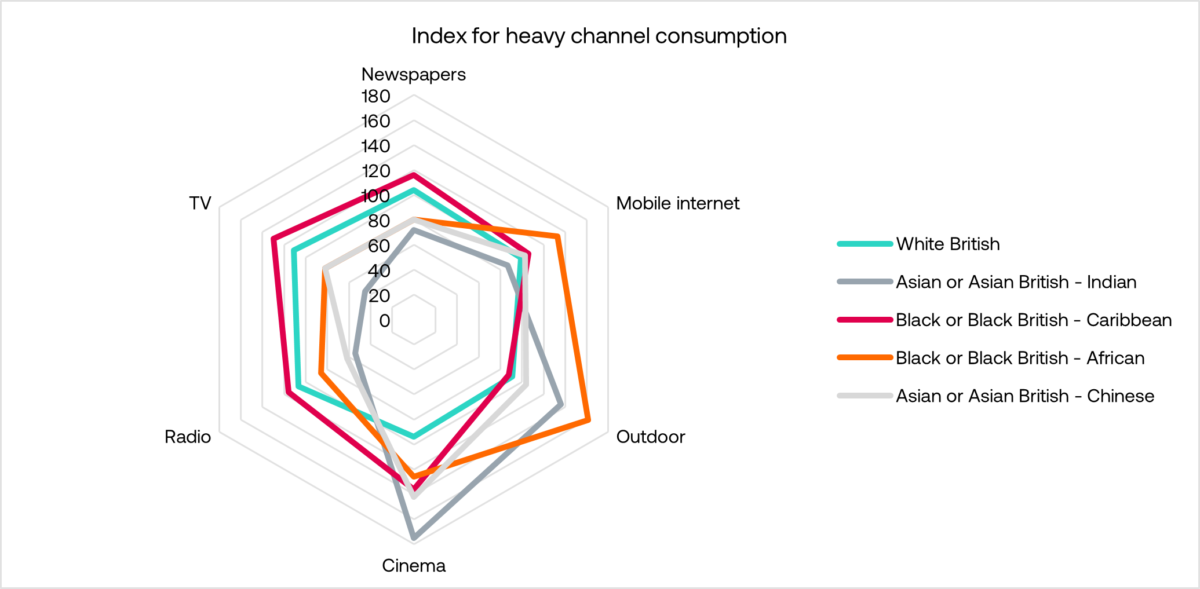 They also have varying attitudes towards media and advertising
We've seen that media channel consumption varies amongst these groups, and the same is true for their attitudes to media.
We have taken the same group of ethnicities and compared their attitudes across, we can once again see that attitudes differ significantly. For example, British Chinese people take particular heed of online reviews and comments, and Black African people are very receptive to adverts on the radio. On the whole, each of the ethnic minority groups looked at here tend to see themselves as much more receptive to advertising and media messages than the White British audience.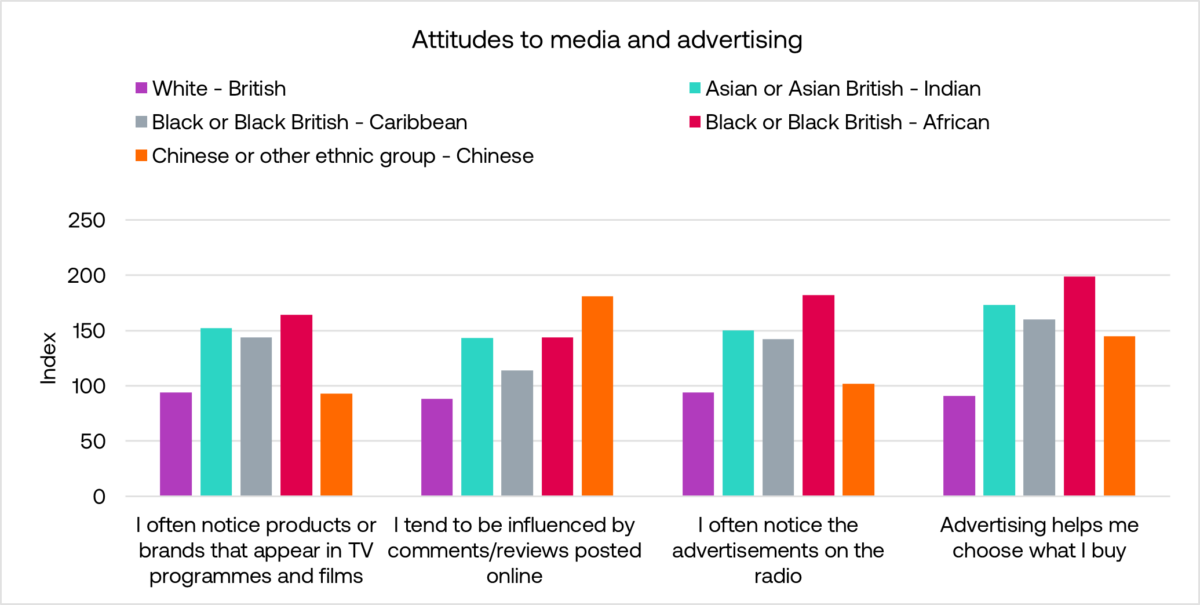 We need to consider each of these audiences in their own right when we plan media
These charts barely scratch the surface of the information available in TGI, but we can already see that there is significant variation in the media behaviours and attitudes of these groups. Our media planning needs to take these differences into account in order to make sure that we are reaching these audiences and resonating with them.
To this end, Kantar are also releasing a range of new definitions for sexual orientation next month, which will be another positive step towards ensuring everyone is accounted for in our planning.