The last four months have seen UK retail sales fall by more than 20%, with a slow recovery as lockdown eased in May, to just 14%. As the chart below shows, it's been a game of two halves for the sector – as physical retail struggled, e-commerce brands (unsurprisingly) soared, with the likes of Amazon growing by 50% YoY in May alone (a whopping 225% since May 2016).
This trend is likely to continue, with 25% of us saying that we'll continue to buy more online for home delivery in the future, and 28% of us planning to visit physical stores less often.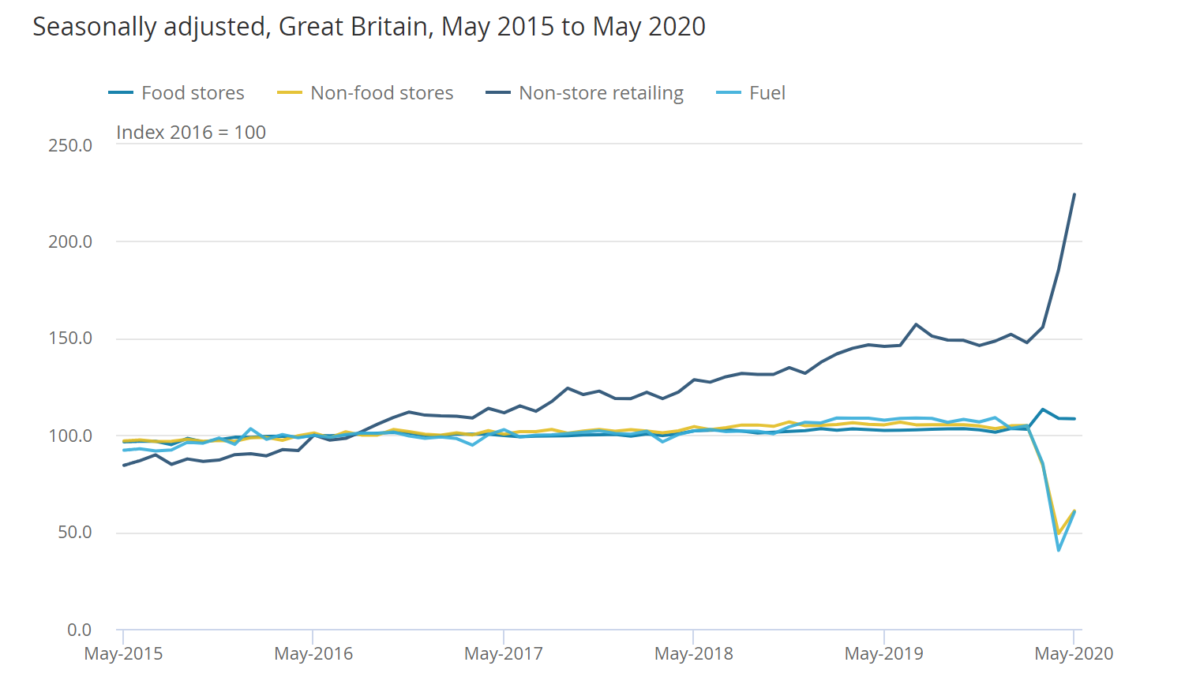 Source: ONS GB seasonally adjusted retail sales 2015-2020
However, even bigger winners than e-commerce retailers were subscription services. Disney+ clearly had the ghost of Walt dropping fairy dust over them as they launched on March 24th, the first day of lockdown. By June they had acquired 4.3 million subscribers and had seen so much demand that they have withdrawn their one-week free trial.
And it wasn't only Disney that saw growth. Between April and May, 5% of us who had never taken a subscription VoD service had joined Netflix, Amazon or Now TV and we watched 44% more paid Video on Demand on our TV's. All age groups jumped on this bandwagon including 82% of under 34's and 15% of the over 65's.
And it's not just content we are subscribing to. With restaurants shut until a couple of weeks ago, we have on average spent another 13 minutes a day cooking. 'Cook it yourself' food subscription services have seen huge growth, with Hello Fresh up 89% YoY and Mindful Chef a massive 450%. To accompany the food, many of us have taken to a bottle of wine or two, with subscription player Naked Wines revenues jumping by 80% in the last two months.
Perhaps the most interesting new subscription model though is the one that combines a traditional purchase with an on-going subscription. Posh activewear retailer Lululemon recently bought Mirror, an online home fitness subscription service (a similar to Peleton bikes which grew by a whopping 92% in lockdown) for $500 million; where consumers spend $1,500 on an interactive screen, and then a $40 per month subscription to access to Box, Barre and Pilates at home with instructors urging you on to greater heights. Lululemon saw the acquisition as the opportunity to create a community of members rather than a database of shoppers.
So why all this interest in subscription? In a post-Covid world we expect it to be a win-win for both consumers and companies selling to them. People have been moving from buying things to subscribing for years – think mobile phones; cars; beauty products and clothes – and that trend is only accelerating. We even have a client who will not only rent you a flat but allow you to subscribe to the art on your walls!
Consumers love subscriptions: Proven by a content-based client who saw a ten-fold increase in response rate to a subscription offer when tested against with a one-off purchase offer.
Most companies love subscriptions: Typically, in a continuity revenue model, brands earn around twice the net revenue per customer over a five-year period than if they were selling sequentially to them.
We love subscriptions: Over the years, The Kite Factory has worked with clients who have offered subscriptions to films; flowers; flats; chocolates; wine; coffee; eco-friendly period products and even the Royal Family! We have helped to build the business models for investors; build the infrastructure for launch; provide our core planning & buying services; and help clients understand who their most profitable subscribers are and how to keep them.
If all the predictions are to be believed, persuading consumers to part with their money this autumn may be tough, but adding a subscription product to your portfolio could lower the barriers to acquiring new customers, and build long term sustainable, predictable revenue.
We have a depth of expertise in building, launching and growing new subscription models. If you would like to chat about whether you could grow net revenues by adding a subscription product to your portfolio, please get in touch.
Sources: ONS, YouGov, Touchpoints, Peleton Investor Update, FT