Addressing how users find our website is one of the most critical considerations when advertising online. In fact, 93% of all online traffic comes from search engines (99firms.com), meaning keywords are essential to your online strategy whether you are using paid or organic listings.
With 5.6 billion searches on Google every day and at least 15% of those searches unique (seachengineland.com), it's a lot of this (338m yearly):

And a whole lot of this: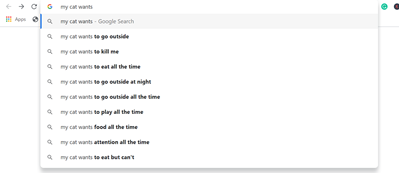 It can be overwhelming to identify which keywords are important to your business, whether you are building content to help organic rankings or creating a paid search strategy.
Consumer-first approach
At The Kite Factory, we use an approach that identifies high intent keywords that appeal to users who are in a transactional mindset and ready to purchase, download, sign up etc.
However, it is also important to remember that users search when they are not ready to convert. And starting your relationship with the consumer earlier on allows you to build a strong brand association. For example, if someone searches for 'why is Barbados a popular holiday destination?' the intent is seeking information rather than a landing page that presents all hotels in Barbados.
To address this, we look at the following considerations:
Consumer objective: What is our target consumer looking to achieve?
Entering Mindset: Are they looking to learn more about a subject? Do they want solutions? Are they looking to purchase?
Exiting Mindset: How can we assist this user in achieving the above?
Key Comms: How can we help this user?
Keywords: What keywords would this consumer search for?
Landing Page/Content: Do we have a landing page that fulfils this need, or does content need to be created?
Once this is complete with our clients' input, we can identify a keyword strategy that not only captures those already ready to purchase but scale to those in the market.
Messaging that resonates and fulfilling onsite journeys 
Approaching consumers using this method means we provide the right messaging in the ad copy that matches their mindset and a landing page that provides the information they need, whether that's an easy path to purchase or a blog/article that provides positive brand sentiment and a higher likelihood of later conversion.
User intent will continue to be key in fulfilling consumers' needs, especially with the huge growth in voice assistants. Therefore, paying close attention to your keyword and search strategy will remain an essential part of online success.
By Jodie Brookton, Digital Account Director