This Monday saw shops reopen and bars & restaurants back in business, serving customers outside for the first time in almost four months. As the photo above from London's Soho on Monday evening shows, the first hospitality opening stage has been greeted with a surge of joy-fuelled demand. Shoppers also queued from early in the morning, and retailers took triple their usual takings on the day.
So that's it then, we are on the road back to normal and come June 21st, all will be back to 2019 again. Well, possibly for some of us, but definitely not for all of us, which has significant implications for audience selection and messaging if you are marketing a service this summer (and probably for the rest of this year).
Not all of us are looking forward to shopping and socialising again
Nearly 40% of us are feeling insecure about interacting socially again. Surprisingly, this insecurity is evenly distributed across all age groups – it's not just the old and families who are disproportionately worried as they have been for the last year.
The driver of insecurity is, as it always has been throughout the pandemic, health worries. With just over 40% of us are still worrying about our personal health in the last month. As Figure one shows, the UK divides into those worried about their health in the last thirty days and those who are not. 58% of those not worried about their health are perfectly happy to be back out and about, but unsuprisingly very few of the worried are.
Figure one: Only 21% of the 21.5 million of us still worried about our health are happy to socialise again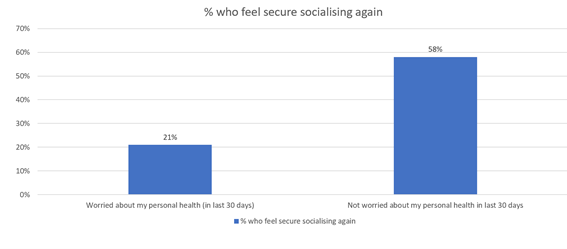 Source: YouGov profiles April 4th 2021
The big change in the last two months is that now only 40% of us are worried about our personal health, down from 50% at the turn of the year. The most significant movement is in the over 55's, who were the most worried – as of early April, only 31% are now concerned about their health, likely due to vaccination.
Not surprisingly, those vaccinated are now much more likely to say they are happy to go back to work, the pub, the gym, or shopping than they were at the beginning of the year, or at least they are when taken as a cohort.
Digging a little deeper is illuminating, as Figure two below shows. We asked how many of those vaccinated were now confident to socialise, and while they form the majority, it's only a slender one.
Figure two: Vaccines have helped confidence, but are not a silver bullet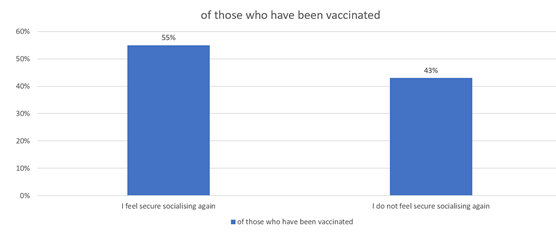 Source: YouGov profiles April 4th 2021
We suspect that those vaccinated will fall into three camps, which will apply not only to the elderly but also to the family life stage i.e. the next cohort to take the jabs. This will have real implications for advertisers this summer.
The first camp will be those who are vaccinated but still worried about their health – about quarter of all those vaccinated so far. This group will probably continue in their current habits – good news if you have prospered under lockdown (selling wine for click and collect or home delivery, for instance), but less good news if you are a gym. The second camp is those vaccinated, footloose and fancy-free. And our third group is the fussy ones. Attitudes towards pub-going are illustrative here.
For figure three below, we asked those vaccinated if they only wanted to go to the pub with others who are also vaccinated or if they didn't care. The results show a privileged audience, most of whom want to extend that privilege into other areas of their lives.
Figure three: 55% of those who have been vaccinated want to drink only with others also vaccinated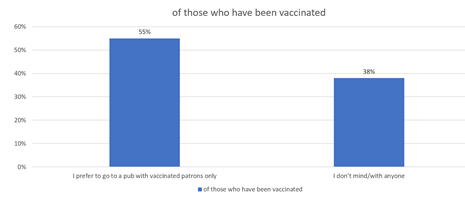 YouGov profiles April 4th 2021
There doesn't seem to be much difference in attitudes between the older and younger adults who (as of March) have been vaccinated. So, of those vaccinated: roughly 25% don't want to go anywhere new; 25% will go anywhere, anytime; and 50% will go out and spend, but on their terms. The most extreme example of this latter group impacting service provision this summer is in the cruise market. Saga, P&O, Cunard, Princess, Silversea cruise lines all require passengers to be vaccinated before travel in 2021.
The implications for service providers who are advertising this summer are three-fold. Firstly, should you create a new service that is restricted to the vaccinated only? Events, for example, have traditionally been a huge income and engagement opportunity for charities. The majority of their supporters will have been vaccinated by June, so should they create events that will reassure those who have, at the risk of alienating the have nots?
Secondly, with capacity likely to be limited as the service economy reopens, there's probably an opportunity to focus resources on those who have zero concerns when it comes to socialising. They will be easier to acquire as customers, more prepared to pay a premium, and more grateful for the service you provide.
Finally, don't forget those who can go out safely, but for whatever reason don't wish to. Many brands that have had a good "war" and seen huge growth can rightly fear the coming peace. If you offer an in-home service that has prospered in lockdown, you might do worse than refocus your media investments onto this audience, and steal share from less nimble competitors.
Our advice? Change always brings opportunities, and we don't just mean selling what were restricted services during lockdown to all of us newly freed from our homes. Some of your audience will want to stay in their cells; some will party like its 1999; and some will want reassurance. But either way, selling the services you sold in 2019 to the audiences who loved you in 2019 just won't cut the mustard.
For support on how best to maximise your summer campaigns in line with changing audience behaviour, please get in touch.