Billionaire, self-proclaimed 'meme lord' and EDM producer Elon Musk's recent acquisition of a £2.3bn stake in Twitter continues to raise eyebrows. The purchase, which makes Musk the platform's largest shareholder at around 9.2% of stake, saw share prices rise to $53.84 (around a 41% increase in the last month). In the days that followed with speculation and opinion pieces circulating, the share value began to slowly decline.  Still, the questions regarding his motive for the purchase hung in the air, and as it was recognised as something of a troll, many assumed that his purchase was simply there for his own amusement.
Musk is no stranger to controversy and has a history of utilising the platform to inflate the value of Tesla, the company he became Chairman of following his majority shareholder position in 2004. His dalliances have landed him in hot water with the U.S. Securities and Exchange Commission, as well as placing him in the court of public opinion on numerous occasions.  An interesting angle is that his acquisition came after publicly criticising the platform's pivot away from open (or consequence-free) speech. This alluded to him starting his own social media platform, a misguided move which Kanye West has been hinted at considering and both Donald Trump and Jeremy Renner have attempted to with 'limited success'.

Not long after it made headlines, recently appointed Twitter CEO Parag Agrawal publicly declared Elon would be joining the board. An unsurprising but questionable announcement, nonetheless. So, how does a wealthy benefactor with a company that recently came under investigation for racial discrimination allegations get on the board of a platform that did an Inclusion and Diversity overhaul at the end of 2021? This question will remain unanswered. Within days, Agrawal would be taking to Twitter again with an Apple notes screenshot and readers were quick to pick at a statement regarding Musk's reluctance to join. Following a request for a background check, conspiracies theorists began frothing at the mouth, tweeting about his inherited emerald mine and what a background check could potentially unearth.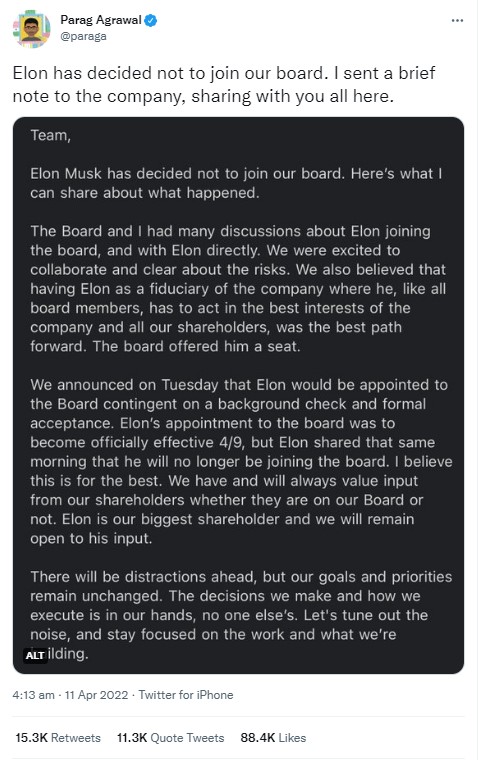 So, what does this mean and why should people care?
Prior to the news that Musk would not be joining the board of directors, people were concerned due to his opinions on free speech and whether banning was appropriate. His public critiques of the Twitter Blue service claimed it should be completely adless and repeated calls for the company to turn its headquarters into a homeless shelter have seen figures like Jeff Bezos declaring public approval.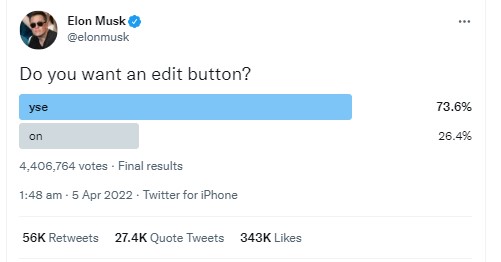 He has repeatedly polled for a functionality that would allow the user to edit their tweets post submission, which saw 73.6% of the 4.4 million that voted saying 'Yes'. A debate about how this would affect conversation followed and is still ongoing. It's difficult to tell what the ramifications will be as so much seems to be happening behind closed doors, but we wouldn't be surprised if changes to Twitter's offering (and by extension ad offering) weren't in the pipeline once the dust has settled.
Ultimately this is a developing story and when it comes to Musk, it is difficult to predict what will happen next. With Agrawal's statement that the board will remain open to their largest shareholder's input, maybe all this theatrically was solely for his amusement. With Musk, only time will tell.
By Jordan Naghten​, Digital Account Executive